Being a true American, you wouldn't miss a chance to fire up a barbecue in your backyard or the patio. From charcoal grills to electric ones, the options are limitless. Among other choices, pellet smokers emerge as a favorite for people who can't be bothered to carry propane tanks with them.
Pellet smokers are fuel-efficient since one pound of pellets allows a run time of up to an hour. Additionally, they eliminate the possibility of flare-ups while imparting a wood-smoked flavor to food.
Like all other grills, pellet smokers come in different shapes and sizes. Thus, it can be a bit tricky to choose the best one for yourself. Lucky for you, we'll help you shop for the best pellet smoker in 2021.
Here is my list of The 10 Best Pellet Smokers for 2021
Here are some of the most impressive pellet grills available in the market today.
Best Overall: Camp Chef Woodwind Pellet Grill & Smoker with Sear Box
Boasting a tech-compatible design, the Camp Chef Woodwind Grill is one of the most feature-packed grills in the market.
Design
The Camp Chef App allows you to control the grill through Wi-Fi and innovative PID. Sitting inside your home, you can monitor and adjust the smoke settings on the pellet smoker using your phone. The wood flavoring intensity ranges from one to ten, and you can change it using the remote control too.
Available in three sizes, the Camp Chef pellet smoker is fit for every balcony, patio, and yard. Like the Camp Chef 36 in. Wi-Fi Woodwind Pellet Grill & Smoker, this model is also compatible with attachments.
Performance
A sear box can be attached to the central unit to attain a 900° F temperature to get the perfect sear marks on the meat items. Additionally, the SideKick goes up to a surface temperature of 750° F with the iron griddle.
As for clean up, it's pretty simple too. The ashes from the burnt pellet get collected in a removable cup placed underneath the grill. Once you're done cooking, simply dispose of the ashes and flush the burner to make the grill ready for another round.
Plus, there are four meat probes to give you better control over your food. You'll get a reading for everything that's happening beneath the lid.
And who says a flame-kissed finish is only a characteristic of charcoal grills? You can get the same effect with this pellet smoker by switching between Indirect and Direct Flame mode.
Capacity
Finally, the grill has an expanded chamber with a 40% higher cooking capacity than average models. Keeping that in mind, you can cook for bigger groups without making anyone wait for their turn to eat.
Specifications
30 x 43 x 49 inches
156 pounds
160°F to 650°F
Pros
Has an innovative PID controller
Comes with four meat probes
Sear box goes up to 900 F
Larger cooking surface
Adjustable smoke control settings
Easy clean up with Ash Kickin' Cleanout system
Cons
Clunky Wi-Fi functionality
App crashes on Android phones
Runner Up: Traeger Pro Series 575 Pellet Grill & Smoker
Here's the best pellet grill for people who're dependent on Amazon's Alexa for managing most of their household tasks. Boasting Alexa compatibility, like the Traeger Grills Pro Series 780, the Traeger Pro Series 575 is the first choice of most homeowners.
Design
Traeger is known for making the original pellet smokers to replace charcoal and gas grills, claiming that wood adds a better flavor to food.
True to the claim, the Traeger Pro offers versatile cooking options, ranging from fast to slow. Thanks to the 6-in-1 functionality, you can bake, roast, smoke, grill, BBQ, and braise on this grill.
Using WiFIRE technology, you can connect the grill to your home's Wi-Fi connection. Then, use the Traeger app to control the pellet smoker from anywhere inside the house. Thus, the control for everything from the timers to the temperature is at your fingertips.
Performance
Moreover, the Pro 575 is quite consistent in terms of results. If you follow similar settings, the grill will give the same texture, taste, and juiciness every single time. The Set-It and Forget-It features ensure this.
Capacity
More importantly, the Pro Series 575 pellet smoker is big enough to grill for a moderate-sized family. Plus, the rack's versatility allows you to cook everything, including steak, veggies, desserts, whole chicken, and fish.
Specifications
40.7 x 26.7 x 53.1 inches
124 pounds
575 sq inches
Pros
Has six-in-one functionality
Can also be used to make desserts
Consistent results
Can be controlled using the Traeger app
Cons
Wi-Fi functionality only works after a software update.
Best Budget: Camp Chef SmokePro Pellet Smoker & Grill
Being the best pellet smoker for people on a budget, the Camp Chef SmokePro successfully matches the performance and functionality of high-end models. It has an 811 sq-inch rack, which is large enough to cater to a big family.
Design
The pellet smoker has a folding front shelf that can be folded to save space. Plus, the SmokerPro also features the company's patented Ash Clean-out system. All you need to do is pull out the plunger and dispose of the ashes. It couldn't get any easier than this.
Like the Camp Chef SmokePro DLX, this model also has simple temperature selection. Thus, you can monitor the food temp conveniently.
Performance
Meanwhile, the Sear capability makes this grill a great option for people who don't want to use charcoal grills but enjoy the flame-kissed flavor. If you want to install a Sear Box, you can use the existing hardware to replace the side shelf with it.
Capacity
The 811 sq-inch rack allows you to cook for the whole friend group on game night. Additionally, the dual probes allow you to cook the turkey and chicken thighs at the same time without having to swap the probe to the other side.
Specifications
40.5 x 25 x 22 inches
144.7 pounds
1-10 temp settings
Pros
Has double meat probes/thermometers
Ash Clean-Out feature for an easy cleanup
Is compatible with a Sear Box
Comes with a second-generation PID controller
Cons
Hard to assemble
The chimney seal tends to leak
Best Rated: Grilla Grills Silverbac Alpha Model Bundle Pellet Grill & Smoker
The Grilla Grills Alpha Model Bundle has everything you need to get started with your grilling ventures. It has a pellet grill featuring a dual-mode controller, four bags of pellet fuel, and a cover to protect the grill.
Design
Being multifunctional, the pellet grill allows you to roast, smoke, grill, bake, sear, and broil. Plus, you can choose between Low and Slow Smoke. Or, you can cook your food at Hot and Fast Sear. Either way, the results are finger-licking good.
As for the construction, the Grilla Grills Model truly lives up to the expectations. It has a double-wall barrel that provides superior insulation. Thus, you can get high fuel-efficiency even when cooking in colder weather.
Performance
Meanwhile, the unparalleled flavor will make you forget about the relatively bland finish you get with an electric grill. The pellet grill has a PID controller. Thus, you can precisely control anything from the smoke production to the temperature.
Moreover, the external body is coated with a rigid powder to protect the grill against wear and tear. On the inside, everything is made of stainless steel for added durability.
Capacity
When you have friends over, use the steel rack extension that comes in the bundle to increase the cooking space. Plus, the 20lb. capacity of the hopper allows an extended cooking time with better fuel efficiency.
Specifications
20 lb hopper
900 Sq. inches
20×28.5×9 inches
Pros
Has a steel rack extension
Can be used for baking and broiling too
Different smoke settings
Precision controls for heat production and temperature
High fuel-efficiency due to insulated build
Cons
Best Value: Z Grills ZPG-7002E 2020 Upgrade Wood Pellet Grill & Smoker
If you want to get value for money, Z Grills Wood Pellet Smoker is the best wood pellet grill for you.
Design
An 8-in-1 design ensures that you won't have to spend money on multiple appliances as they're all packed in one. You can broil, braise, BBQ, roast, grill, smoke, and bake using this pellet smoker.
Additionally, the pellet grill has a consistent temperature range. It mainly stays 10 degrees around the set temperature regardless of how hot or cold the surroundings are.
Another feature that helps you save money is the higher fuel-efficiency. Therefore, you can cook for up to 20 hours with just 20 pounds of pellets. Compared to a gas grill, this is a much economical option.
Performance
Moreover, the Z Grills Pellet smoker is pretty easy to work with. While the electric igniter kickstarts the grill quickly, the Digital Temperature Control feature lets you adjust the cooking settings. Besides, the LED temperature readout lets you monitor the food without opening the lid repeatedly.
While everyone wants to savor a grilled meat steak on the weekend, no one likes to deal with oil and grease. Fortunately, the Z Grills pellet smoker has a Waste Oil Collector that assists in easy cleanups.
Capacity
If the balcony isn't big enough to accommodate all your friends, you can easily move the grill to the yard. Luckily, it only weighs 80 pounds and has caster wheels for easy portability.
Coupled with a 20 lbs. Hopper capacity and a 700 square inches cooking rack, these features make the Z Grills smoker the best pellet grill for the money.
Specifications
700 sq inches
48 x 22 x 51 inches
84 pounds
Pros
Stays within ten degrees of the set temperature
Has eight functions
Contains an Oil Collector to remove waste oil
Fan-forced convention for versatile grilling
Cons
Best Portable: Green Mountain Davy Crockett Wi-Fi Control Portable Wood Pellet Grill
Sporting a sleek design, the Green Mountain Davy Wood Pellet Grill is more than just a treat to the eyes. Its best feature is the Sense-Mate, which is a thermal sensor that monitors the grill temperature constantly.
Design
Also, the meat probe allows even better control of the temperature under the lid. Owing to the peaked lid, you can keep an eye on the ribs without lifting the top all the way.
The Green Mountain Davy is hands down the best wood pellet grill for the road. It only weighs 68 pounds and can fold to fit the trunk of your car easily. Whether you're a fan of fishing or love camping, this is the best pellet grill for your adventures.
Performance
Since the pellet grill connects to the company's app, you can control the temperature using your mobile phone. Simply connect to the built-in Wi-Fi system and adjust the heat settings from anywhere.
Capacity
For functionality, the pellet grill has a convenience tray to keep all your ingredients. Moreover, the utensil hooks make it easier to store the tools instead of keeping them on the floor.
Specifications
57.3 pounds
2V or 120AC power supply
28 x 20 x 14 inches
Pros
Wi-Fi controls
Utensil hooks on the central unit
Has a convenience tray
Easily portable
Fold to fit in the car seat or trucks
Cons
The grease tray warps after use.
Best High-End: Yoder Smokers YS640S Pellet Grill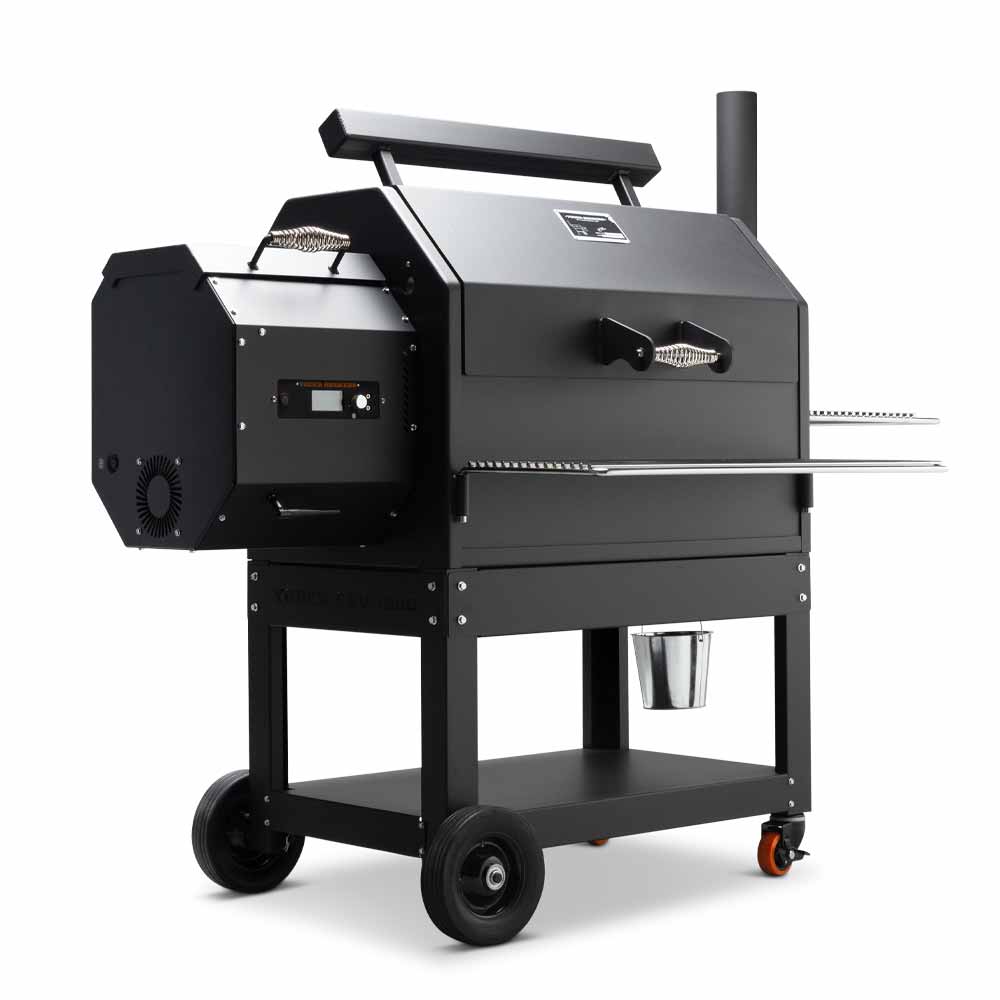 The Yoder Smokers Pellet Grill is an ideal pick for people who want a high-end option that exceeds expectations and lasts for years to come. Equipped with the Yoder Smokers ACS Control System, this pellet grill is a treat for BBQ-lovers.
Design
Firstly, it has a ceramic ignition system that makes it fairly easy to turn the grill on and off. Even newbies won't have any trouble starting the grill. Then, the 10-gauge steel build ensures durability and longevity.
You can set it up for over-the-flame grilling to double it up as a smoker. Thus, if you need the exact 700°F temp for searing a steak, you've got it at hand. Likewise, if you need to smoke the ingredients at 250°F for 12 hours, that's an option too.
Performance
The grill's performance is honed by Yoder app control. Regardless of the recipe, you can ensure precision and accurate temp control using the company's app. Due to this, you get a matchless taste and a smoky flavor that will have you asking for more.
The company offers a three-year warranty on the ceramic igniter, 10-year for the cooking chamber, and a three-year warranty for the ACS controller.
Capacity
The pellet grill has a 1,070 square inches cooking space coupled with a 12-inch headroom. Therefore, there's plenty of room for everything from pork butts and chicken to briskets.
Specifications
1,070 sq. Inches
20 pounds hopper capacity
335 pounds
Pros
Instant ceramic igniter
Has large casters
Handles stay cool
Cons
Poorly-built cover
Does not come with a thermometer
Best Customer Service: RT-700 WiFi Enabled Portable Wood Pellet Grill
If a product is faulty or damaged, your sole hope is for the customer service to be responsive and helpful. When it comes to pellet grills, no one does customer service better than the makers of RT-700 WiFi Enabled Portable Wood Pellet Grill.
Design
However, the product's popularity is not just due to reliable customer services – it's pretty impressive in terms of functionality too. The cooking chamber is made entirely of stainless steel. So, you don't have to worry about the material peeling or cracking.
To ensure a safer start-up, the grill has an Automatic start and shutdown feature.
Performance
As for ease of use, the grill comes with Wi-Pellet Wi-Fi technology. You can use it to control the cooking temperature from anywhere in the house. Moreover, the dual meat-probes directly connect to the grill, eliminating the need for an after-market thermometer.
Even better, the PID algorithm keeps the temperature precise, only letting it fluctuate ten degrees around the set value. You can roast, grill, sear, bake, and smoke on the cooking tray.
Capacity
The built-in capacity of this pellet grill is about 700 inches, but it can be increased to 1000 inches by adding a second optional shelf. Therefore, you can host parties or cook different recipes at once.
Specifications
700 sq inches
200 pounds
Six-year warranty
Pros
Has an extended warranty
Safe and quick start-up
Expandable cooking surface
Cons
The temperature fluctuates over 300 degrees.
What is a Pellet Smoker?
A pellet smoker or pellet grill is an outdoor cooker with the combined functionality of kitchen ovens, charcoal, and gas grills. Wood pellets fuel a pellet smoker, giving a smoked wood flavor to the food.
Most pellet smokers have electronic control panels that are used to adjust airflow, fire, and temperature. Back in the 1970s, the oil crisis hit the US. That's when people started looking for home heating options that were affordable and effective.
During this time, wood pellets were invented. In the next decade, Jerry Whitfield and Joe Traeger started working with pellet-burning grills and stoves.
These stoves resembled traditional stoves in appearance but worked with electricity and had a motor-driven auger that controlled the number of wood pellets going from the hopper to the firepot.
Traeger grills were the first-ever patented pellet smokers in the US. Even today, the company is known for its innovative designs and advancements in pellet grilling.
How Does a Pellet Smoker Work?
Quite briefly, a pellet smoker functions like a convection oven in which heat dissipates equally to all parts of the cooking chamber. Thus, you can fill up the container with ingredients without giving a second thought to uneven cooking.
The flavor is more subtle as compared to charcoal grilling but has the same flamed feel to it. To understand the working of a pellet smoker, you need to be familiar with its parts. These include:
A hopper that stores wood pellets
Cooking chamber where you put the ingredients
Intake fans that circulate air
An auger that feeds wood pellets to the cooking area
Meat probe to monitor the temperature of the cooking chamber
Firstly, you put the wood pellets in the hopper. When supplied power, the auger feeds these pellets to the cooking chamber. Modern pellet smokers have an electric ignition system. Therefore, you can light them up in a jiffy.
Quite like an oven, you can precisely control the temperature of the grill. Normally, there are two cooking settings: low and slow or searing hot.
In most pellet smokers, there's a meat probe that connects to the control board. You can use it to monitor the temperature of the cooking chamber. Some newer models also have sear plates that bring Indirect Heating functionality to the grill, giving six to eight cooking options.
How to Choose a Pellet Smoker?
When choosing a pellet grill, you have to consider features that you like. In essence, all pellet smokers pretty much work the same way, but they all have slight differences that may make one better than the other for you.
Thus, you need to determine the kind of pellet smoker you want. Are you looking for something that you can take along on trips? Do you want the best pellet grill for the money, or are you more inclined towards tech features? Let's discuss some aspects below.
Price
Let's admit it: pellet smokers can quickly get out of your budget range if you're not smart about your pick. Of course, higher-end models will be more expensive, but don't be tempted by the glitz of slicker designs and higher functionality.
A pellet smoker with eight functions may cost over $500. But are you ever going to use all those functions? Have you ever baked or braised on a smoker before? If not, then there's no point in spending hundreds of bucks.
Instead, you can buy an inexpensive model that does the job without breaking the bank. For instance, the Camp Chef SmokePro Pellet Smoker & Grill has a vast temperature range and a large cooking chamber. However, the price is still very affordable.
Construction
Secondly, the pellet smoker should have a durable build. It shouldn't be flimsy as you don't want to deal with hot wood pellets and scalding meat pieces if the grill loses balance.
Additionally, the lid should close properly on the heating chamber. If there are gaps between the closure and the chamber, it will let heat escape. Make sure the grill doesn't have a flush or gap.
As for the material, stainless steel is a tested option. Opt for 304 stainless steel grills as the material is most durable. However, it's more expensive too. Alternatively, the 403 stainless steel build is also reliable.
Type of Controller
Typically, you'll find three types of controllers on pellet grills. Choose according to your preference.
Multi-Position Controllers: These controllers are characterized by a knob with temperature settings from 180°F to 420°F. Mostly, the temp increments are 25°. In some cases, there might be an LCD. Although these controllers give reliable temperature control, they fluctuate in cold weather.
Non-PID Controllers: These controllers also have an LCD and have buttons for changing the temperature in five to ten-degree intervals. Besides being more accurate, these controllers also have meat probes inputs for monitoring the food's temp.
PID Controllers: PID controllers are the most recent and sophisticated pellet controllers that keep the temperature in a few degrees of the set value using algorithms. They also have an LCD and increase the temp in five-degree intervals.
Cooking Area
If you want to cater to a larger group, make sure you get the best vertical pellet smoker. It will allow you to cook for six to eight people simultaneously. Some pellet grills also come with extension racks, like the Grilla Grills Silverbac Alpha Model Bundle Pellet Grill & Smoker.
Thus, you can adjust the rack's size according to the number of people you're cooking for.
Miscellaneous Features
Although not necessary, these features can make grilling easier. You should only look for them if you have the budget to accommodate the added expense.
Meat Probes: Some controllers come with meat probes outputs. One end goes into the control board while the other enters the meat. Using this, you can track the food's internal temperature without having to lift the lid.
Direct Grilling: Depending on the type of grill you buy, the Direct Grilling area may be permanent or adjustable. In some grills, you have to remove a portion of the diffuser plate to allow the flame to go through. On the other hand, some grills have permanent space for Direct Grilling.
Wi-Fi: Modern pellet grills come with Wi-Fi compatibility. Thus, you can manage them by connecting the appliance to the app on your mobile phone.
Portability
If you plan on using the pellet smoker while traveling, make sure it's lightweight and compact. For instance, the Green Mountain Davy Crockett Wi-Fi Control Portable Wood Pellet Grill weighs less than 100lbs. and can be folded to fit inside the car's trunk.
Also, buy a cover for such pellet smokers to protect them from weather conditions, insects, and physical damage.
Conclusion
As evident from the guide, pellet smokers are on a whole different level from charcoal or gas grills. Besides being easier to use for newbies, they're also multifunctional in most cases. Thus, you can simply buy them instead of having to get multiple appliances separately.
Hopefully, this guide would have helped you choose the pellet smoker for all your BBQ needs. Happy grilling!